Stained Glass in Pisgah Forest, NC
Dave's Stained Glass has been serving Pisgah Forest, NC and its surrounding areas since 2000. We bring the beauty and allure of stained glass to residential and commercial buildings through unique, well-crafted works of art. We also sell stained glass supplies, participate in craft shows and put on workshops, to help customers learn about this stunning artistic medium. Contact us today to order a piece or join one of our classes.
---
2019 Show Schedule for Dave's Stained Glass:
9 am – 5pm, June 7th & 8th
At the Masonic Lodge
174 E. Main Street, Brevard, NC
9 am – 5pm, August 9th & 10th
Under the big tent
At Brevard College
One Brevard College Drive, Brevard, NC
9am – 5pm, October 11th & 12th
Under the big tent
At Brevard College
One Brevard College Drive, Brevard, NC
9am – 4 pm, October 25th & 26th
Sacred Heart Ladies Guild Craft Show
At Sacred Heart Catholic Church
150 Brian Berg Lane, Brevard NC
9am – 2 pm and 6 – 8 pm, November 2nd
7:30 am – 2 pm, November 3rd
SEAS Fall Bazaar
St Elizabeth Ann Seton Catholic Church
12805 Valley Wood Dr, Lake Ridge, VA
9 am – 5pm, December 13th & 14th
At the Masonic Lodge
174 E. Main Street, Brevard, NC
---
Complete Stained Glass Design, Fabrication and Repair
Stained glass in Pisgah Forest, NC isn't just reserved for churches or prestigious government buildings. In fact, it's accessible for homes and businesses of all types! At Dave's Stained Glass, we make it easy for you to design a piece and have it created by skilled artisans. It's our pleasure to create stunning works of art that'll grace your building for decades to come.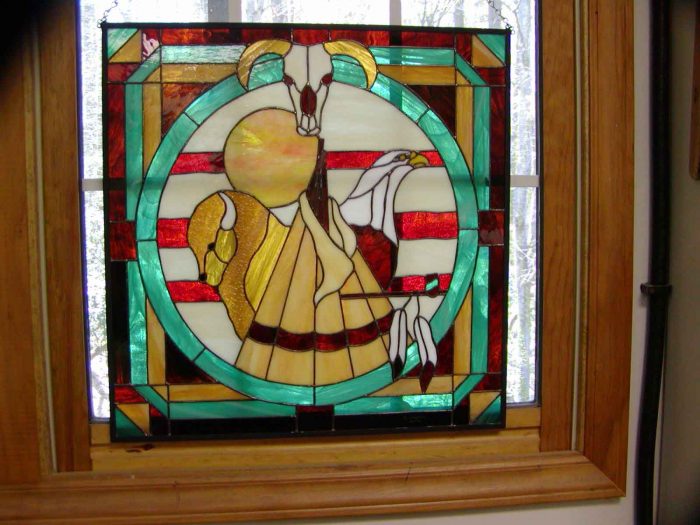 As master artisans, we've been working with stained glass for decades. Our many years of experience and long list of satisfied customers has made us the region's go-to for stained glass services. Whether it's creating something completely original or working from a concept to design a unique piece, we love being able to exceed our customers' expectations and leave them in awe of the finished product. In addition, our skills position us as the authority for stained glass repair in Pisgah Forest, NC. If your beautiful glass is damaged or has become compromised, we'll restore it to a like-new condition (maybe even better than new!).
Our love of stained glass has led us to bring our craft to as many people as possible. To that end, we teach workshops and classes, and we open our studio up to hobbyists and creators who want mentorship and access to quality tools. We charge just $8 for studio space and workshops, and we invite you to come and learn more about how stained glass is made!
Whether you're interested in commissioning a unique piece or want to try your hand at creating beautiful stained glass, Dave's Stained Glass welcomes you. Visit us today and let us share our love of stained glass with you!
We're a complete stained glass shop. We handle design and creation, as well as installation and even repairs if damages occur. We're an all-in-one expert!
We strive to offer you top-of-the-line products and professional services for affordable, competitive prices.
Our skill is unmatched! We're proud of our history of repeat customers, and we welcome students as we teach the art of stained glass through classes and workshops.
We're extremely proud of our word-of-mouth reputation. We've had customers and students travel from several hours away to purchase custom orders from us!
Our stained glass pieces are ideal for both residential homes and commercial buildings. We strive to meet the aesthetic and feel of your architecture in our designs.
Let's Create Something Beautiful
Have an idea for a stained glass fixture? Want to learn the skills behind the art? Contact Dave's Stained Glass today to inquire about our abilities or to join a workshop!
List of Areas Served
ZIRCONIA, NC
HORSE SHOE, NC
LITTLE RIVER, NC
MOUNTAIN HOME, NC
NAPLES, NC
PENROSE, NC
PISGAH FOREST, NC
ROSMAN, NC
TUXEDO, NC
BALSAM GROVE, NC
BREVARD, NC
CEDAR MOUNTAIN, NC
CLEVELAND, NC
EAST FLAT ROCK, NC
EDNEYVILLE, NC
ENKA VILLAGE, NC
ETOWAH, NC
FLAT ROCK, NC
FLETCHER, NC
HENDERSONVILLE, NC
MOUNTAIN HOME, NC
NAPLES, NC
PENROSE, NC
PISGAH FOREST, NC
ROSMAN, NC
TUXEDO, NC
ZIRCONIA, NC
Clay County NC
Macon County NC
Swain County NC
Jackson County NC
Haywood County NC
Transylvania County NC
Buncombe County NC
Henderson County NC
Oconee County SC
Pickens County SC
Greenville County SC